We are Zamforia.
We started ZAM around 2006 by slinging t-shirts out of our Jeep because we had something important to say: Make Art.  Send a positive message.  Do something good.
Our first collection of tees said Love in different languages and they served as the foundation of Zamforia. As we've grew and expanded over the past decade, so has our collection of art. Positive, bold, and with purpose reflect our attitude and perspective; limited edition and original, our medium.
zam-fo-ri-a
/zamˈfôrēə/ , sounds like "euphoria" but with a "zam"
noun
the connection. If Life is about links, similarities and connections, then Zamforia is the common denominator. .
soul: You have to go with your gut everyday. And that's what 'ZAM' is: the thing in your gut you gotta follow, and we all share it. Zamforia is indicative of the human experience. It's soul. It's the most basic relationship between all people, which transcends any physical, social, or cultural boundaries"
use: "zamforia hits you when the music drops or when that climax of the movie occurs."
synonyms: soul, connection, happiness, euphoria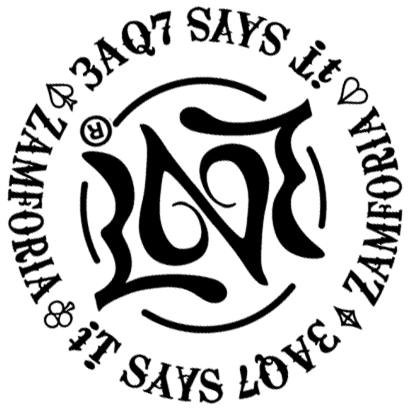 Our Logo
Our Love Symbol is an ambigram: a word that can be read both right side up and upside down. When Jonathan first drew it, he include a hidden "Z" for Zamforia: rotate the logo 90 degrees, you'll see it in the middle.
The Love Symbol is reflective of the entire company- adapt to constant change; see with a different perspective.